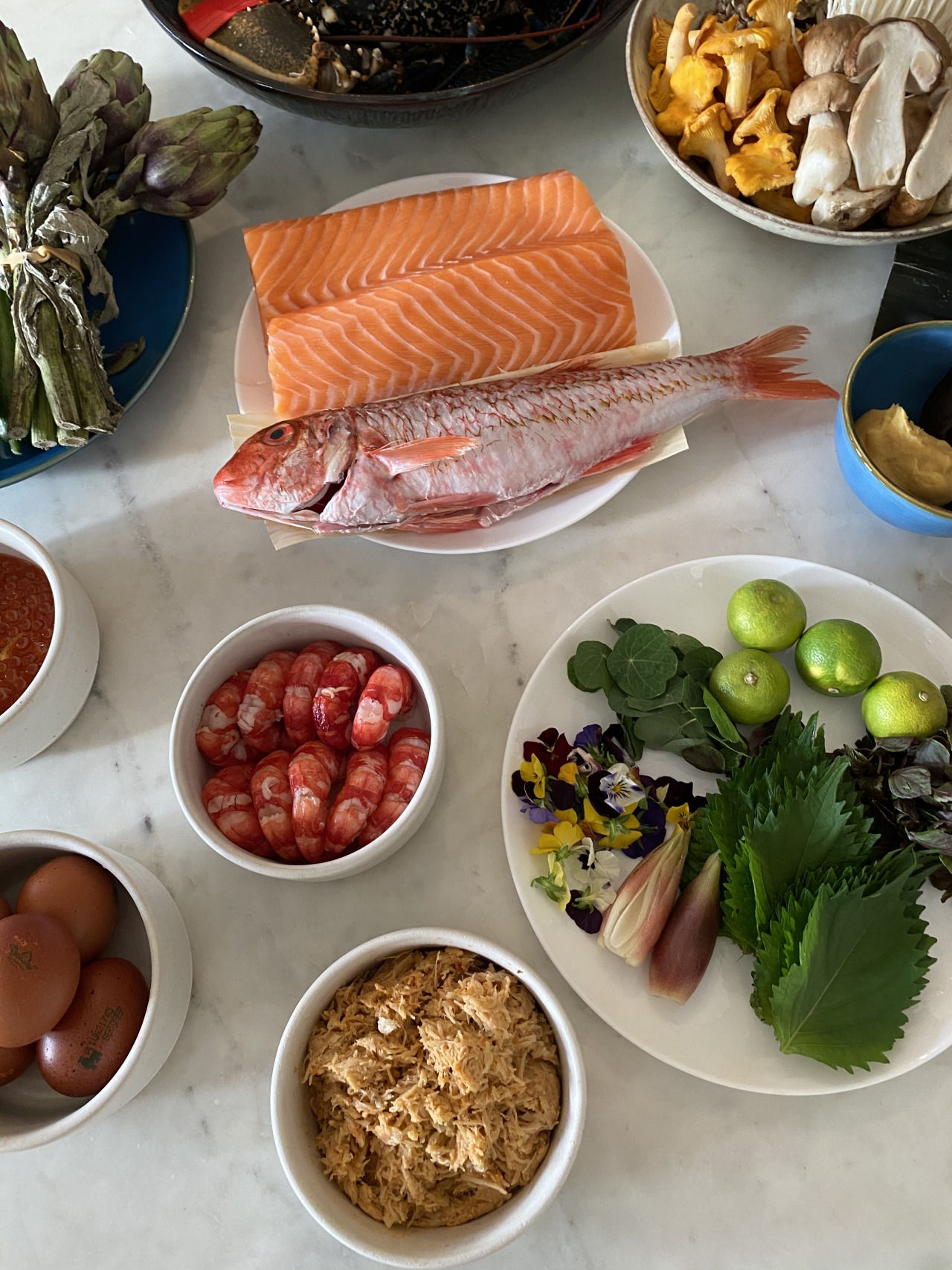 FOOD: Chirashi Sushi at Home
I first met Yoshinori Ishi at 2 Michelin-starred restaurant Umu. One of the best Kaiseki masters in Europe, he was the former head chef at this London mecca of Japan cuisine for 11 years. Originally from Saitama, Yoshinori has worked as a sous-chef at Kitcho, the legendary 3 Michelin star restaurant in Kyoto, followed by the official chef at the Japanese embassy in Geneva and New York over the course of 6 years.
The elegant chef not only brings his Kaiseki – Japanese haute cuisine – to the world, but also shows us a more intelligent approach to fish. Yoshinori is a pioneer of the Ikejime fishing method and has been working closely with the fishermen in the UK. The Ikejime method is based on a simple premise: the less a fish suffers during the slaughter process, the better its quality remains.
I had the pleasure of learning how to cook the best 'Chirashi Sushi' from the master himself. I hope you enjoy cooking this special recipe in your own home!
Chirashi Sushi with Harihari-Japanese Pickles & Miso Soup
You can use any type of fish to make this recipe, so just choose your favourite and ensure it's as fresh as possible. If finding fresh fish proves too difficult, then using frozen shellfish is a great alternative. And, for those that don't eat seafood, this recipe also works with vegetables – simply swap out the fish for vegetables of your choice.
Ingredients:
Fish
Lobster, 2 x 600g
Salmon fillet, 200g
Eggs, 4
Rice
Short or medium grain white rice, 2 cups
Vinegar, 50ml
Sea salt, 10g
For the Salad
Mushrooms (Porcini, Girolle, Enoki)
Carrot, 1
Celeriac, 1
Baby artichoke, 4
Mange tout, 1
You can also include any leftover roasted vegetables you have.
Harihari-Japanese pickles
Baby cucumber, 2
Red round radish, 5
Ginger, 30g
Shiso and Myoga, if you can find
Salt, 1 teaspoon
Miso soup
Head and shell of the lobster
Head and bone of the fish
Kombu, 15cm
Miso (white or red)
Mushrooms
Spring onion
Tofu
Sansho pepper
Japanese Optional ingredients:
Shiso
Kinome
Myoga
Nasturtium
Sushi rice
To start off, mix the vinegar and salt. If you find your vinegar is too sour, just boil it and cool it down to remove excess sourness. Set aside whilst you cook your rice.
Be sure to wash your rice thoroughly with running water and transfer to a rice cooker or a thick pot to boil. The amount of water and cooking time depends on the rice, but it needs to be 10-20% less water than you would usually use to cook white rice.
Transfer your cooked rice into to a large bowl and mix together with your vinegar and salt, then leave to one side to completely cool.
Fish
Lobster 600g x 2
Place your lobster into boiling saltwater for 1 minute. Then, turn off the heat and leave for 6 minutes if you'd like it medium cooked or 8 minutes fully cooked.
Remove the shell, season with salt and then cut into small bite size pieces.
Salmon fillet 200g
Season your salmon with salt and leave to stand for 10 minutes.
Sauté in a frying pan. You can also grill the fillets, but be sure to keep as much moisture as possible when cooking.
Allow to cool before breaking down into flakes.
All other fish and shellfish can be similarly cooked, cooled and seasoned with salt. You may also use raw fish if you are confident of its freshness and quality.
Vegetables
Wash and cut your carrot, celeriac, baby artichoke and mange tout into thin strips.
You can sauté, boil, steam or bake the vegetables depending on your preferred method. Just ensure you season with salt once cooked.
Cut your mushrooms into cubes, or dice.
If you can find Japanese herbs such as shiso, kinome, myoga, or nasturtium, these can be used as toppings to add even more flavour to your sushi.
Egg
Whisk your eggs well and add a pinch of salt.
Spoon your mixture into a hot pan, moving the pan to ensure that the mixture forms a thin, even layer similar to a crepe.
Once you have used all of your egg mixture, allow to cool and shred into strings.
Plating
Mix your sushi rice, salmon, shellfish and vegetables together in a bowl.
Plate them and sprinkle over your shredded egg.
Top with a cut of fish and vegetables, and Japanese herbs if you have them.
Enjoy!
Miso soup
To make the stock
Place shells, bones and kombu into 800ml of water and heat, removing the kombu just before the stock begins to boil.
Keep simmering and removing all the bubble foam with a spoon, Strain after 30mins.
Finish
Cut your vegetables and tofu into small pieces and cook in the stock.
Season with miso to your taste and sprinkle on shredded spring onion and sansho pepper to finish.
Enjoy!
Harihari-Japanese pickles
Slice your cucumber and red round radish and cut the ginger into thin julienne.
Mix all vegetables, season with salt and lightly squeeze the pickles.
Enjoy!